SHOP PROJECTS
Pianos purchased on speculation. Repaired and regulated to complete refinished and reconditioned and then offered for sale. These projects are somewhat like the cobblers children in that they get worked on as contract shop work and tuning schedule allows.
A Project that gains a "sponsor" then becomes a contracted project with the end product defined.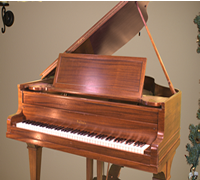 This Baldwin grand is in a clients home. The internals and sound are in really good condition. The case should be refinished.
A great first grand! Asking $3,000
Call for appointment to see.
Steinhauer Upright Circa 1905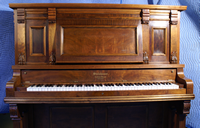 This upright is all but completed. New Strings, New Hammers, NewKeytops, New Felt new parts throughout. Refinished.
What's left? Balance the keys and adjust touch weight.
IN PROCESS: Sponsor (buy it before it's complete) for $2000. Completed asking price will be $3,000.
George Steck Grand 6' Circa 1893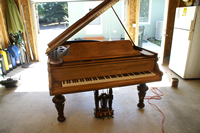 The big challenge on this instrument will be the re design of the action (all the moving parts that gets the hammer to the strings) as the old design parts are not available and there has been so many make shift repairs that a new action is dictated. It means doing some homework and math to get it right.
Inprocess and finished pics in the future.
This instrument should be worth $35,000 when complete.
If you are inerested is sponsoring the rebuild, it could be yours for about $15,000. What say you?